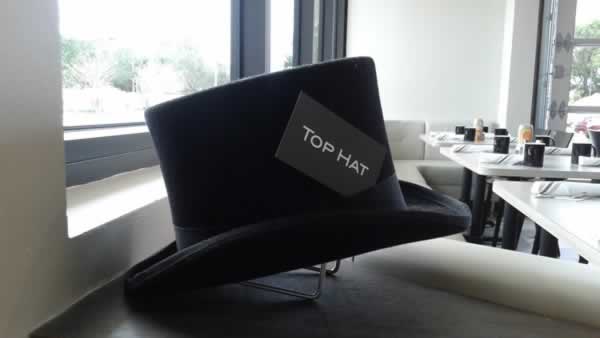 Top Hat Delicatessen
Top Hat Delicatessen
415 NE 3rd St, Fort Lauderdale, FL 33301
Phone:(954) 900-3896
www.tophatftl.com
Hours:
Monday 7:30 AM – 3:30 PM
Tuesday 7:30 AM – 3:30 PM
Wednesday 7:30 AM – 3:30 PM
Thursday 7:30 AM – 3:30 PM
Friday 7:30 AM – 3:30 PM
Saturday 7:30 AM – 3:30 PM
Sunday 7:30 AM – 3:30 PM
I got to the Top Hat Delicatessen, or Deli as some call it, a little too late to eat, so I asked if I can take some pictures for FortLauderdaleHotels.com website? They said sure. I noticed that most of the employees were eating the food there so it must be good. I can't wait to get there one day soon to taste this new way of eating deli.
"Who ever heard of Brisket or pastrami being "Hot pressed" on a Panini Press"? This is not your Grandfather's Delicatessen. New spins on some old favs at the Top Hat Delicatessen in Fort Lauderdale.
Someone once said, "I never Promised you a rose garden", Well, Top Hat never promised you, your Grandfather's Delicatessen. Some reviewers were left speechless. The Management will tell you straight up, "We don't steam our brisket or pastrami, we panini press it".
Great place. Service is cheery and attentive. A New Yorkish deli with a touch of panache. Not cheap but worth every penny.